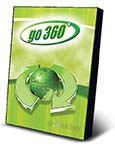 Specifically produced for children, go 360 shows young believers each month how children are involved in missions and overseas ministries. As they see new cultures and God changing people in other lands, they will be encouraged to pray, give and participate in reaching the lost.

See below for compilation DVDs.

Also available as a yearly subscription, you can receive a DVD each month (12 DVDs). Please call 1-800-988-6568 for pricing information and to sign up for yearly subscription.