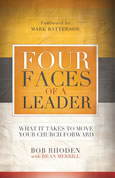 Overview
Four Faces of a Leader: What It Takes to Move Your Church Forward
by Bob Rhoden

Do you want to be the change the world is looking for?

Are you eager to move your church into a new dimension of growth and maturity? Four Faces of a Leader can utterly transform you as a leader and those you lead. Not with bells and whistles, but with a soft whisper of truth. By emphasizing the leadership priorities Jesus demonstrated in the Gospels, Bob Rhoden shares practical applications for all pastors, whether they serve 1,000 or 100 members.

Like a personal mentor providing intergenerational truths, this book challenges, inspires, informs, and encourages. Based on four leadership "faces" of Shepherd, Servant, Steward, and Seer, this is a solid roadmap of practical insights and uplifting encouragement drawn from Bob's many years of experience and success both as a pastor and a denominational leader.


Product Details
Format: paper
Pages: 200
Size: 5½ x 8½
ISBN: 9781624230455
Pub. Date: August 2013

Meet the Author

Bob Rhoden has served his denomination in both regional and national leadership roles for more than fifteen years. With over twenty-two years experience as a pastor in Richmond, Virginia, his current passion is to mentor younger ministers. He is a graduate of Toccoa Falls Bible College (BA), Elizabethtown College (BA), Wheaton Graduate School (MA New Testament Studies), and Union Presbyterian Seminary (DMin). Father of three children and grandfather of eight, Bob and his wife, Joan, live in a Richmond suburb.


Table of Contents
1. So What Is a Leader?

PART ONE: The Face of a Shepherd
2. The Calling
3. What Shepherds Actually Do
4. Sacrifices of a Shepherd

PART TWO: The Face of a Servant
5. Strange Combination
6. Getting Practical
7. You Might Be a Servant If …

PART THREE: The Face of a Steward
8. Performance Does Count
9. Six Arenas to Manage

PART FOUR: The Face of a Seer
10. Do You See What God Sees?
11. Advancing the Bigger Picture

SUMMARY
12. Where Do You Stand?
13. You Can't Pick Just One

Appendix: Three Dads in the Shadows