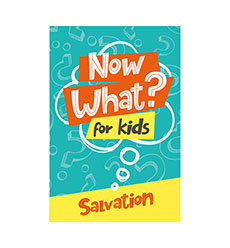 Price:

$ 1.99

MSRP: $2.29
Quantity pricing available.
Overview
Now What? for Kids Salvation
Give kids the answers they need in a format they'll understand.
Now What?
for Kids
helps your team with those times following a child's salvation decision when they can be full of curiosity and need to know, "What comes next? " Read through the booklet with kids and explore common questions, their Scriptural answers, and teach them the T.R.U.S.T. acronym  that illustrates the important parts of discipleship:
Talk to Jesus by praying
Read your Bible
Use what you have to give to God and others. 
Spend time with other Christians.
Tell everyone you can about Jesus.
Each chapter also features Bible readings and questions to pique kid's interests. Written from a Pentecostal perspective.
Product Details
Format: Booklet
Pages: 32
Size: 4 x 6
ISBN: 9781607319764
Publisher: Gospel Publishing House
Pub. Date: June 12, 2018
Available in Spanish
¿Y ahora qué? Para niños: Salvación