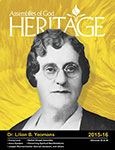 Price:

$ 3.00

MSRP: $8.00
Overview
Assemblies of God Heritage 2015-16, Volume 35 & 36
Since 1981,
Assemblies of God Heritage
has faithfully shared the stories of the pioneers, churches, and innovative ministries that helped shape our Fellowship. You will want to read the 2015-16 annual edition of
Heritage
, which captures some of these lively stories of our Pentecostal past. This colorful magazine will inspire, challenge, and evoke memories.
Order the 2015-16 edition of
Heritage
for yourself, or as a gift for your friends or relatives. We think you will agree that
Heritage
magazine is a keepsake!
Featured Articles:
Encountering the Great Physician: The Life and Ministry of Lilian B. Yeomans—by Desiree D. Rodgers
Sowing Abroad, Reaping in Harlem: The Story of Bethel Gospel Assembly—by Matthew A. Paugh
Aunt Fanny Lack: The Remarkable Conversation, Healing, and Ministry of a 100-Year-Old Hoopa Indian Woman—by Matt Hufman & Darrin J. Rodgers
Discerning the Spirit: Spiritual Manifestations in Early Pentecostalism—by D. Allen Tennison
Anna Sanders: An Unlikely Pioneer of the Assemblies of God in Mexico—by Donna Bustos & Joshua Ziefle
Saved, Healed, and Filled with the Holy Ghost: The Changed Lives of Five Early Pentecostals—by Darrin J. Rodgers
Product Details
Format:
paperback
Pages:
80
Size:
8¼ x 10¾
ISSN:
0896-4395
Publisher:
The Flower Pentecostal Heritage Center
Pub. Date:
2016