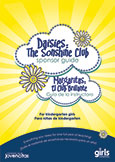 Overview
Mpact® Girls Clubs Daisies Sponsor Guide CD-ROM
This leadership tool provides how-to information for Daisies clubs, complete lesson plans for 15 units (60 lessons), comprehensive activities, games, and other resources. English and Spanish sections are available in one bilingual guide featuring cultural updates. Scripture verses updated to NIV 2011.
Resumen
Club Margaritas guía de la instructora, CD-ROM
Esta valiosa herramienta para el liderazgo contiene guías prácticas para los clubes de Margaritas, y planes de clase para tres años de reunión del club, planes de clase para 15 unidades (60 lecciones), actividades, juegos, y otros recursos. Esta guía bilingüe incluye modificaciones culturales en inglés y español. Los versículos bíblicos tomados de la NVI (solo inglés) se han actualizado a la versión 2011.
Product Details
Format:
CD-ROM
Case Size:
5¼ x 7½
ISBN:
9781607319856
Publisher:
Gospel Publishing House
Pub. Date:
August 27, 2015
Available as Digital Downloads