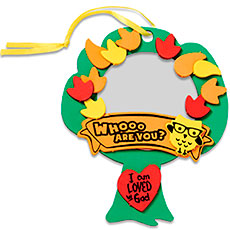 Price:

$ 1.29
Quantity pricing available.
Overview
Build your own foam activity kit with foil mirror and peel-n-stick pieces is a fun way to teach children about God and to have faith in Jesus Christ. This easy, quick, meaningful craft for children can be used at Sunday school, Fall festivals, given away at Trunk or Treats, or during children's church, and more! The back of the tree features Bible verse Galatians 3:26  You are all children of God through faith in Christ Jesus.  (NLT) 

Kit includes
1 foam tree
1 foil mirror
14 stickers
10" ribbon for hanging.
For ages 3+
(Contains small parts, not suitable for children under 3.)

Tree measures 5" x 4"