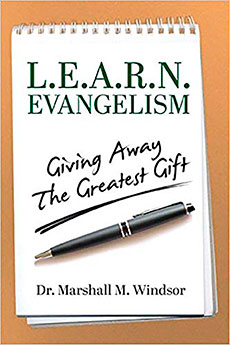 Overview
L.E.A.R.N. Evangelism: Giving Away the Greatest Gift
by Marshall M. WIndsor

Evangelism is helping people understand how to have a right relationship with God through the Good News of Jesus Christ. Letting God use you to share that Good News through Scripture and your own testimony has never been easier! Dr. Windsor encourages you with timely insights and shows you how to get moving for the Kingdom today!
Product Details
Format: paperback
Size: 4 x 6
Pages: 28
ISBN: 9781633084452
Publisher: Chalfant Eckert Publishing
Pub. Date: May 9, 2018
Available in Spanish
Aprenda a Evangelizar