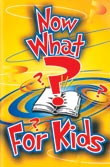 On backorder, will ship when available.
Price:

$ 10.99
Quantity pricing available.
This is the booklet you'll want to give to every child who comes to salvation through your ministry…and it's economical enough to do it! Be prepared with plenty at your outreaches and weekly church services. It's designed with the answers kids need to know about salvation and the beginning steps of discipleship. Each chapter has a Bible reading, devotional, study questions, and a memory verse. Written from a Pentecostal perspective.

Paper. 24 pages. For ages 9–12. 4 x 6"

Now sold in packages of 10.