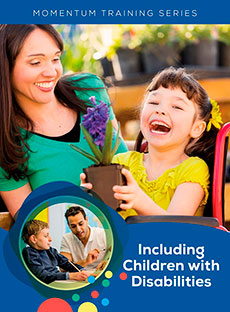 Price:

$ 9.99

MSRP: $11.99
Quantity pricing available.
Overview
Momentum Training Series: Including Children with Disabilities
by Jean K. Lawson

You're setting up for the group you lead when a new child visits for the first time. Her parents let you know she has autism. 


Are you confident about including this child with a disability in your group?

Whether you already have children with special needs in your church, or you just want to be better prepared, Including Children with Disabilities will help you understand common disabilities and equip you with the practical tools and information you need to effectively teach them.


Gain more confidence in your ministry skills when you explore:
Distinctives of children with developmental and intellectual disabilities, with a special emphasis on students with autism
Proven teaching strategies, including how to modify learning activities, scheduling, memorization, and more.
Practical tips on how to connect with parents and help students develop friendships with others in your group.
MOMENTUM TRAINING SERIES
Be better equipped and feel more confident in your ministry. Whether you are a new volunteer or a seasoned leader, Momentum Training Series is designed to help you sharpen your skills and become more effective as you disciple others. Each topic also includes the opportunity for certification to recognize your accomplishment. 
Visit
MomentumTrainingSeries.com
to take the test and get certified.
Product Details
Series: Momentum Training Series
Format: Saddle-Stitch
Pages: 32
Size: 7 x 9.5
ISBN: 9781607315919
Publisher: Gospel Publishing House
Pub. Date: May 15, 2019
About the Author
Jean K. Lawson is a special education teacher of students with autism, and recipient of the 2018 Springfield Teacher of the Year Award. Her philosophy is to know each student as a child first, an individual with the ability to give and receive love, to grow and develop in unique ways, and to reach his or her God-given potential. She and her family live in Springfield, Missouri.
Available in Spanish
Integración de los niños con discapacidades